Routinely Apple has launched the public beta versions of iOS 13 when it would take a level of patience in dealing with the bugs that just don't know. The good news is that you can go back to the current official version of iOS 12, and the process isn't overly complicated or tough. The bad news depends on whether or not you created a backup of your iPhone or iPad before you installed the beta. Backup space in iPhone is paid which refuses some users to do the backup. However, Syncios Manager and Syncios Data Transfer take a more interactive approach to back up and restore your files after upgrading your devices to iOS 13.
This tutorial is suitable for all the iPhones, iPads and iPods on iOS13 version ranging from iPhone XS, iPhone X, iPhone XR, iPhone 8/7/6/6s/5s/5/4.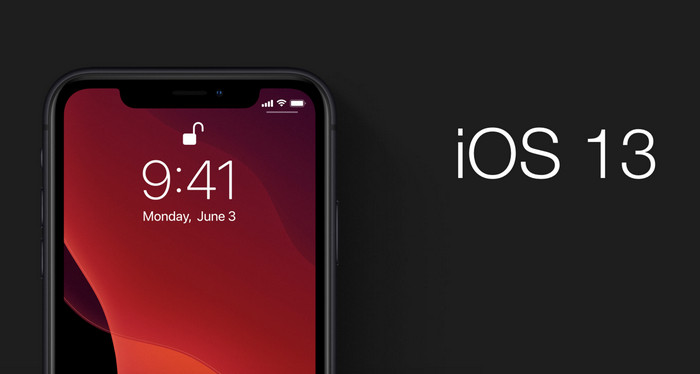 1.One-Click Backup and Restore iPhone Data on iOS13.


 One-Click Backup iPhone data on iOS 13
Step 1Download Syncios Manager on your computer and register on the upper right menu 

.
 Download
Win Version    Download
Mac Version
Step 2Connect your iPhone into the program via appropriate cable, make sure you check out our complete guide to iOS 13 devices connection to Syncios Manager.When you have come to this step, you are free to manage and selectively delete the duplicate files to further release the storage on your iPhone.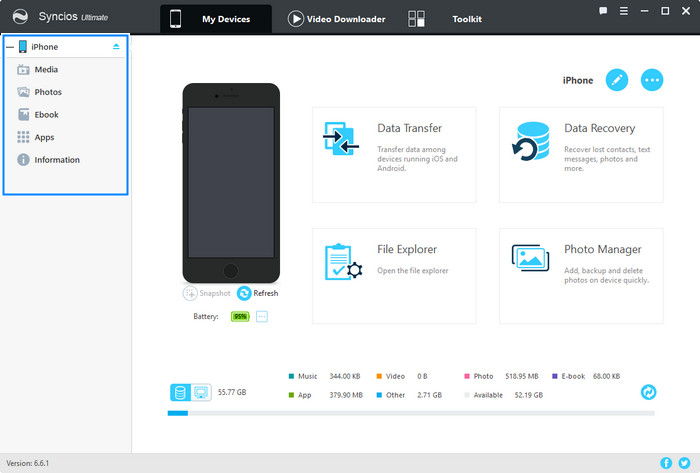 Step 3Go to Toolkit >>> 1-Click Backup
If you have decided to have a full backup instead of the selective backup of the files on iPhone, you now can take good advantage of the features built in Syncios Manager. 1-Click Backup is one of the various options to back up the iPhone data overall. Above the menu bar, users can click on Toolkit to functional tools recommended to use. And the here is to choose 1-Click Backup.
Step 4Customize the path of the backup and select the data you need to backup. The rest of the process is handled by Syncios Manager, just follow the prompts. You can select all the major files to backup such as Media, Photos, Ebook, Information. Or you can specially back up the item that you weigh a lot like Contacts, Note, Bookmark, Call history, Messages, WhatsApp, Safari history and Voicemail ,etc.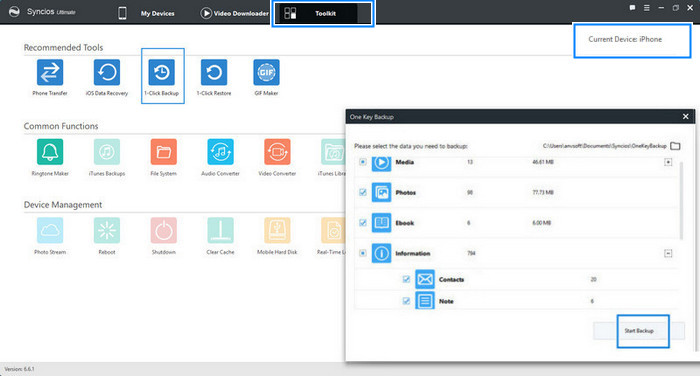 Step 5Click on Start Backup and don't disconnect your iPhone from PC until it tells you it's safe to do so.


One-Click Restore iPhone data on iOS 13
If you are going to recover the data to your iOS 13 devices, and these are the steps:
Step 1Go to Toolkit >>>1-Click Restore
Step 2Choose the backup folder that you are going to restore to your iOS devices.
Step 3Next to select the specific items to restore to your devices. If you have suffered a total loss of data in your iPhone/iPad/iPods, you can select all the options. If you only want retrieve your important files like Contacts, photos, call history, etc. You can directly kick on the item and let go of others.
Step 4Start Restore to recover the data you want.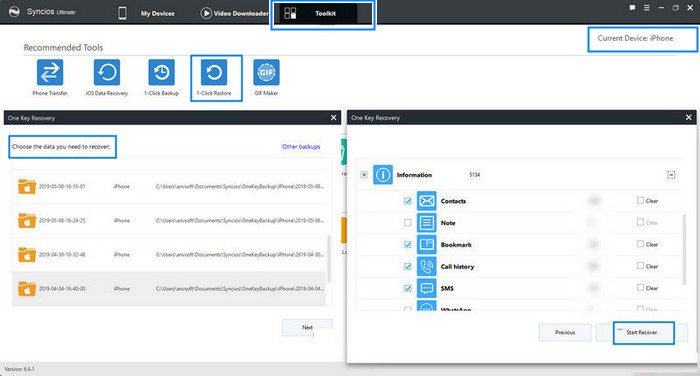 2. Restore iCloud and iTunes Backup to iPhone on iOS 13.
When you finished the backup and restore of the iPhone data on iOS 13 with the assistance of Syncios Manager. You may wonder what if the data in iTunes and iCloud backup in the previous iOS versions. Never mind, get the Syncios Data Transfer installed the latest version, you'll have a chance to restore it from a backup, be it in iTunes or via iCloud.
Step 1Free Download and install the latest version of Syncios Data Transfer.
 Download
Win Version     Download
Mac Version
Step 2Restore mode and connect iPhone to the program via USB.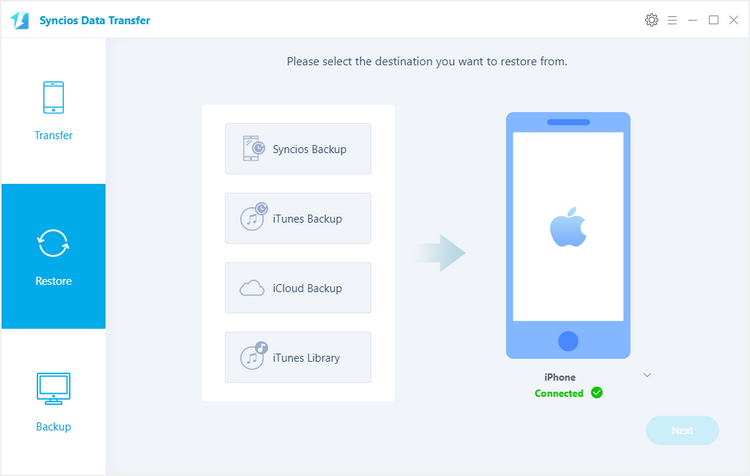 Step 3Click on iTunes Backup >>> Select the iTunes backup file to transfer >>> OK.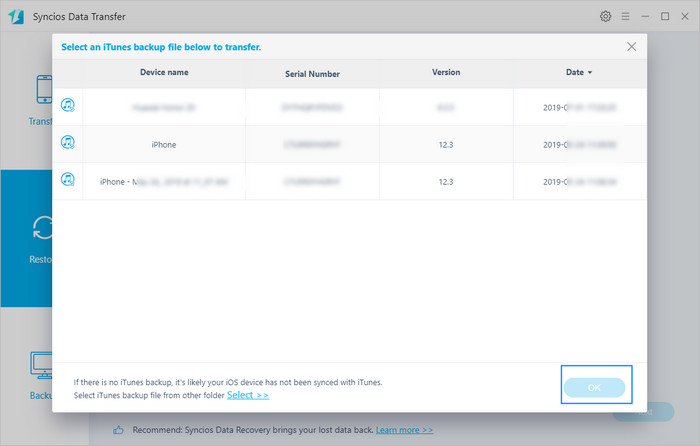 Step 3Click on iCloud Backup >>> sign in iCloud account >>>Select the iCloud backup file to transfer.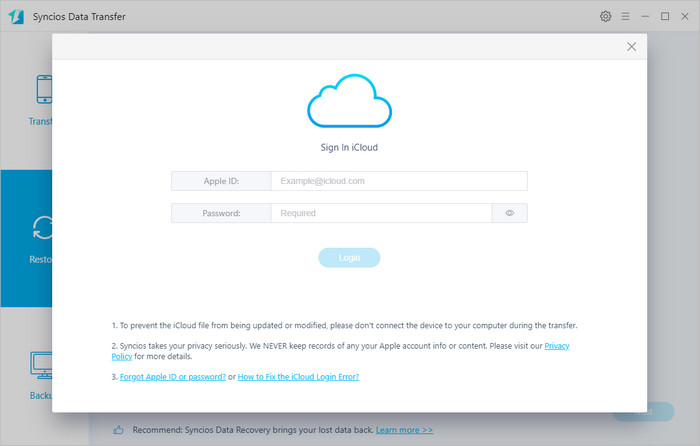 Step 4Next to select the data to restore. ITems supported to restore are Camera Roll, Photo Library, Contacts, Message Chats, Call History, Contacts, Message Chats, Call History, Notes, Bookmarks, Safari History, Voicemail.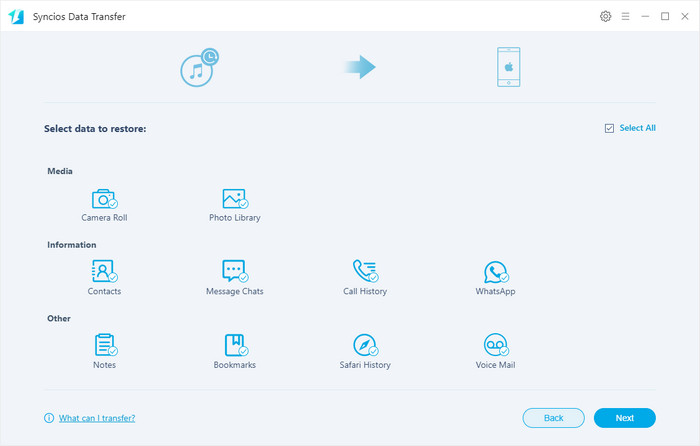 Step 5Next to transfer the targeted items until it completed.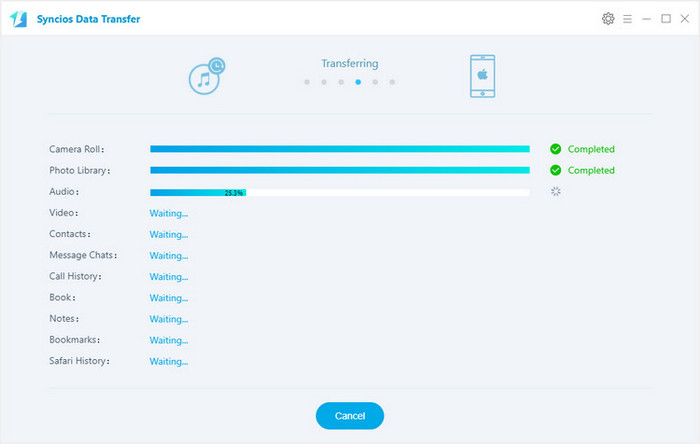 To avoid any data or quality loss when you are using your iOS 13 devices, people are supposed to make efforts on the data backup. Syncios Manager is a superior choice for iOS users to have a deep experience of their devices. Syncios Data Transfer helps iOS devices to easily migrate data among iOS devices.