Do you know that there are some unknown files taking up the storage on your iPhone? Typically, people will straightly delete the data on their own. Indeed, ever though you have deleted the files on your iPhone, these invisible files can leave out as temp or junk files, which will affect the entire performance of your iPhone. Much worse, your private data will be threatened if these temp files overwrite it during your using. To prevent the recurrence of these problems, you now have to cultivate a habit to periodically clear out your iPhone data. Follow this tutorial to learn how to clear out your private data on your iPhone without data loss.
PanFone iOS Eraser would be much easier to purely refresh your iPhone or iPad with the features of iOS data erase. One of the biggest features for you today is its value in 100% clearing out the private data. It offers an option for those who might have a smaller iPhone storage and iCloud backup space. And this feature will suit you well to protect your data privacy.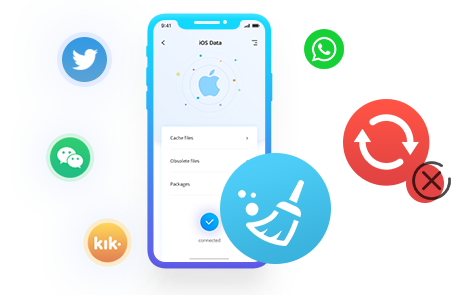 Clear iPhone Private Data by PanFone
Step 1Check out the program is the latest version that you downloaded and installed. If not, go to the menu on the upper right and click on the key button 'Updates'. PanFone features have been getting better in every upgrade process.
 Download
Win Version
Step 2Connect your iPhone to PanFone through USB cable. Prompt pops out: Don't start iTunes and sync files when running the program to avoid data overwriting.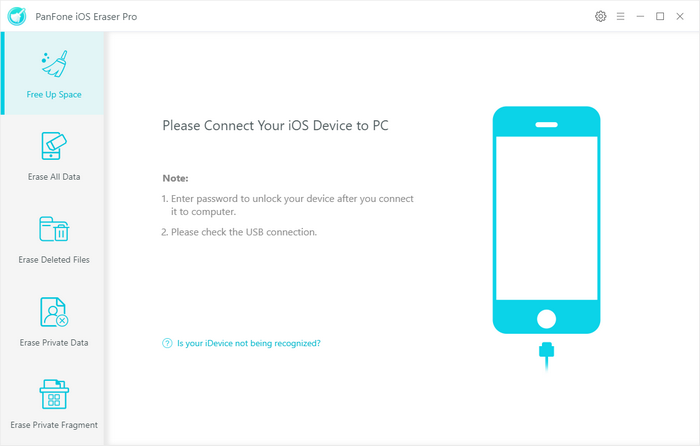 Step 3In a bid to clear out private data, you would go to Erase Private Data mode to start at clicking on the key button 'Erase'.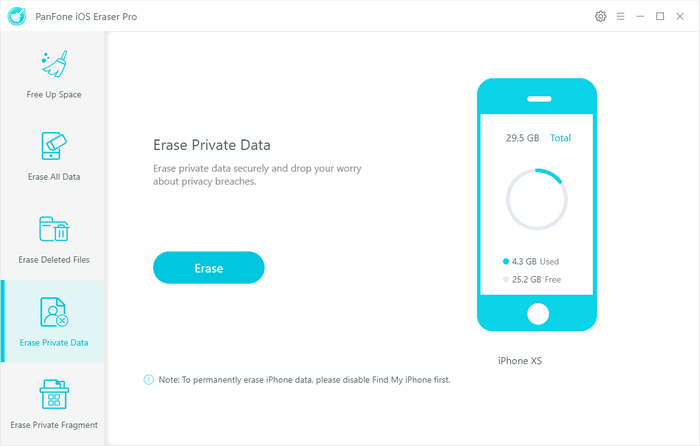 Step 4After the process of scanning, records of private data will be shown. Here we clear out the messages for example, click on the option 'Message'. It comes with a well-organized structure allowing you to look into the detailed information including the text sender or recipient and the conversation at the same time.
Step 6Selectively kick on the checkbox in front of the text messages. Or you can directly click on 'Select all' to make a choice package.
Step 7Click on 'Erase now' to follow the instruction. Here you will be required to confirm your chioce again by typing 'erase' in the box. PanFone will certainly delete the data without chance to recover.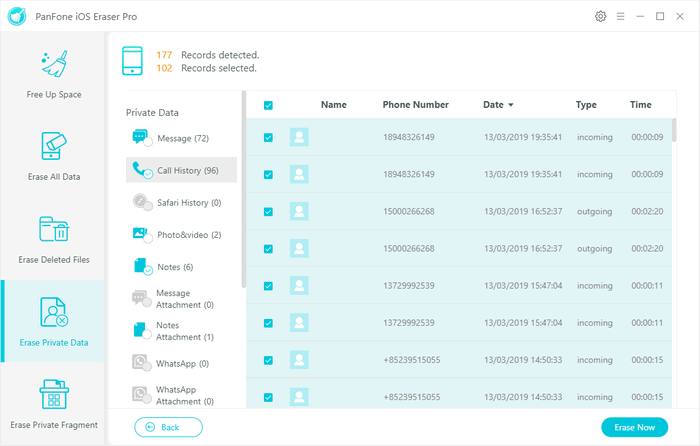 Now, you will be glad at such a functional program that pleases in many availability. Although it is now compatible with iOS devices only (not support Android yet), several other features like Erase All Data, Erase Deleted Files, Erase Private Fragment have made PanFone a worthy try in iOS devices storage and data security market.
Learn more about PanFone iOS Eraser
The surprising fact is your deleted files aren't really erased. The system just removes the pointer and marks the sectors as available. PanFone iOS data eraser helps you to ensure previously deleted data are no longer recoverable.
Erase all data from your iOS device to make them irrecoverable by any means!
Erase private data and deleted files to secure your privacy.
Erase all private fragments generated by 3rd-party apps.
Enables you preview and select certain files before erasing them from iOS device.