Apple's new iPhone 11, iPhone11 Pro and iPhone 11 Pro Max have been arrived in customers' hands since last Friday. And there are so many users have switched to the new phone. After transfer data from the old phone to new one and have backed up your data, DO not forget to delete/erase all data on your old iPhone. If you concern with the leak of personal data and personal privacy, this method of erasing all data on iPhone will suit you perfectly.
How to Delete All Data on Old iPhone
Step 1: Click the following button to download PanFone Data Eraser and install it on your PC.
 Download
Win Version
Step 2: Launch PanFone Data Eraser and connect your iPhone to your computer.
Note: you need to turn off Find My iPhone first if you want to permanently wipe your iPhone data.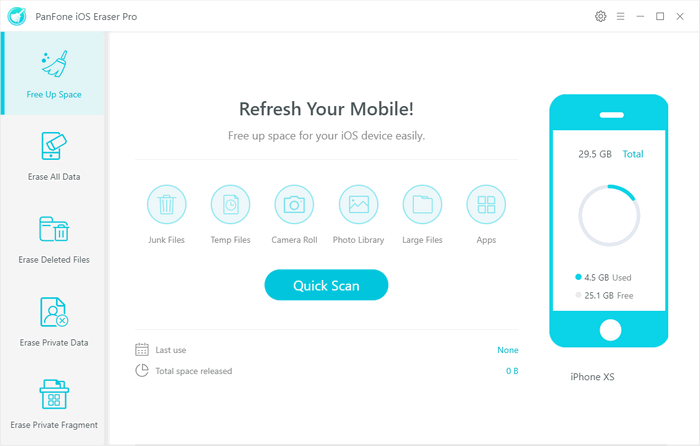 Step 3: Select Erase All Data mode on the main interface and tap Erase button.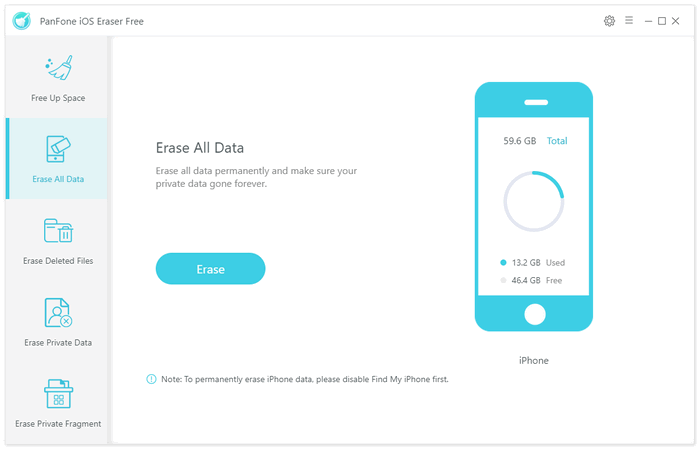 Step 4: There are 3 security level to select. Choose one you prefer and click OK. The default recommended level is Medium.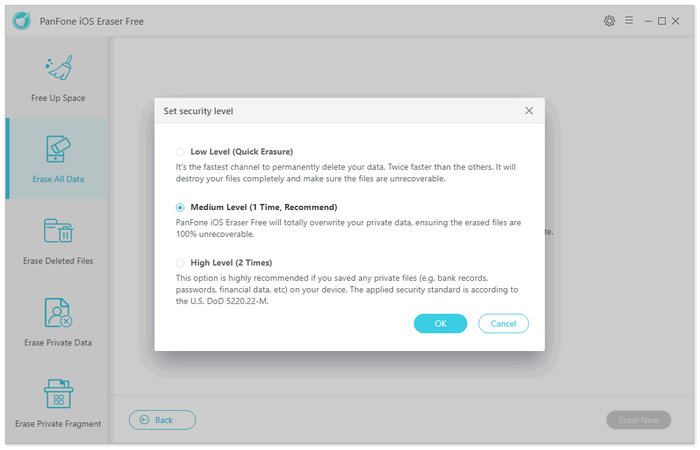 Low Level: Just remove data. Replace them with modified data and delete these data again. All data are destroyed and unrecoverable. This level of erasing is the fastest.
Medium Level: Remove the existing data and overwrite them with random data and then delete them again. Leave no trace of erasing after the deletion to make sure the deleted data 100% unrecoverable.
High Level: The longest and most secure data destruction option to write over the data three times, the security standard of which is based on the U.S. DoD 5220.22-M. It's highly recommended if you have stored any important private data on your iPhone/iPad, such as bank records, passwords, etc.

Generally, we recommend user to use the Medium Level, which is enough to make sure of your personal information safety.
Step 5: In the pop-up window, you need to manually type delete in the required box to confirm your action, and then click Erase Now.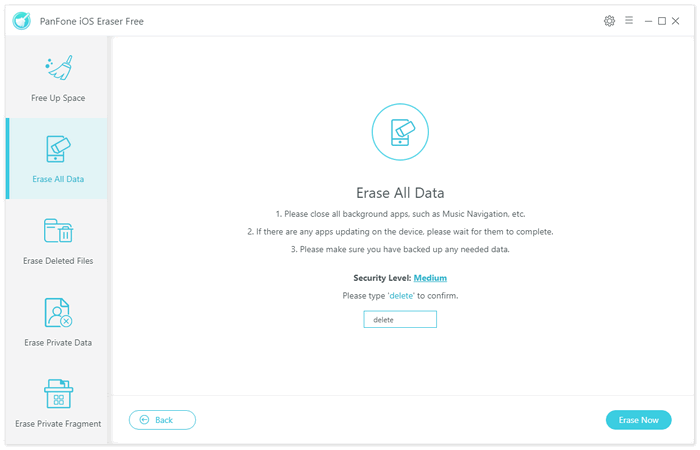 Step 6: The erase begins. And when it finishes, you will get the successful window.
All of your personal data and important documents are securely and permanently deleted from your iPhone.
Note: please note this action will PERMANENTLY erase all data and CANNOT be undone. Please make sure you've backed up the data in case of any data lost.
Difference between Data-erase and Factory Reset on iPhone
What is Factory Reset?
A factory reset is simply restoring software of iPhone to its original system, which is achieved by erasing all the information that is stored on the device, with the aim of getting it back to the manufacturer's original settings. In doing this, data, applications and settings are erased on the device. There are several situations that could warrant a factory reset and they include problem with battery life, the device performing sluggishly and a situation where you plan to sell or transfer the ownership of the iPhone device. In all these situations, a factory reset is normally the option to try to salvage the situation.
Shortage of it:
Your important information may be removed.
Private information erased through a factory reset can be retrieved using some modern recovery software making it unsuitable if data privacy is desired.
Your files may become corrupted.
It could affect the way your device works
There would be loss of snippets and plugging installed on your iPhone
iTunes authorization file will be removed on your device
To avoid the above shortage and keep your personal data safe, we recommend to use PanFone iOS Eraser to do a data erase.