"I plan to sell my old iPhone but the problem is I don't know how to erase my phone data permanently. The data existing in my phone is very important and privacy. I want to erase all of them and do not need to worry about being recoverable."—David
People may erase data on their iPhone for a variety of reasons, maybe for selling to buy a new phone, donating your old phone, hiding something from your phone or deleting something to improve performance. No matter what reason is, you can refer to some ways to delete everything or format your iPhone including how to permanently erase the data 100% unrecoverable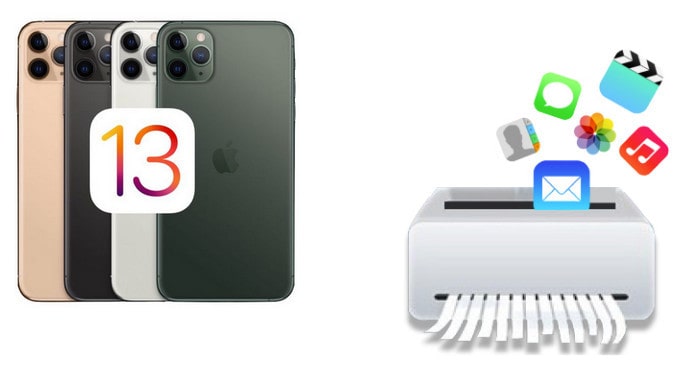 How to Delete Everything on iPhone 11 Permanently
We all know the importance to protect privacy and confidentiality data in our iPhone, and we also really need a safe and reliable way to wipe your phone data permanently. How about deleting all data manually? No, this method is not as safe as it seems. Actually, the deleted iPhone data are still stored on the device unless new data is written to the same piece of storage. It is possible for someone to restore your iPhone data with the help of certain data recovery software. It is recommended to use the eraser tool like PanFone Data Eraser, which can permanently erase the data 100% unrecoverable.
Step 1: Download and install PanFone Data Eraser to your computer.
 Download
Win Version
Step 2: Launch PanFone Data Eraser and connect your iPhone to your computer.
Note: you need to turn off Find My iPhone first if you want to permanently wipe your iPhone data.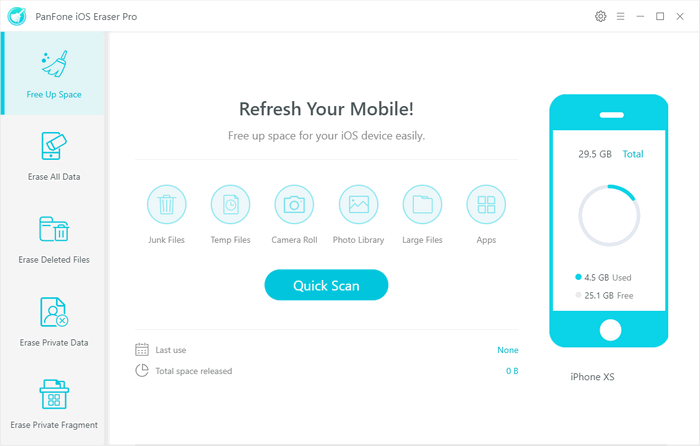 Step 3: Select Erase All Data mode on the main interface and tap Erase button.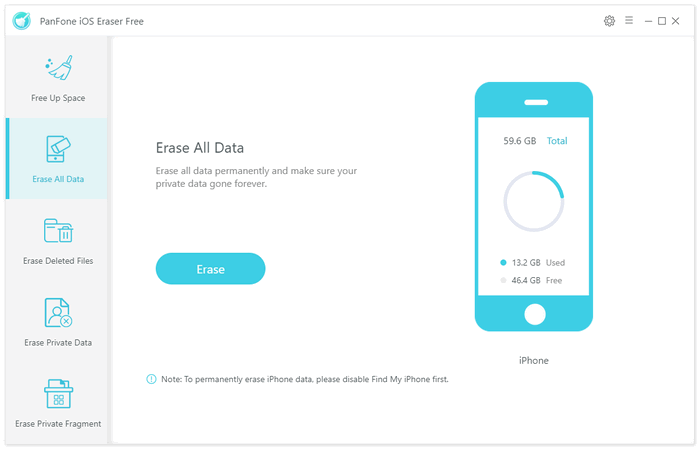 Step 4: There are 3 security level to select. Choose one you prefer and click OK. The default recommended level is Medium.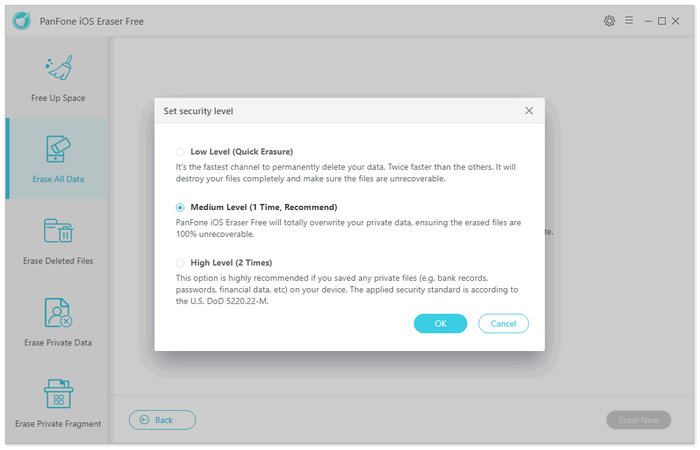 Low Level: Just remove data. Replace them with modified data and delete these data again. All data are destroyed and unrecoverable. This level of erasing is the fastest.
Medium Level: Remove the existing data and overwrite them with random data and then delete them again. Leave no trace of erasing after the deletion to make sure the deleted data 100% unrecoverable.
High Level: The longest and most secure data destruction option to write over the data three times, the security standard of which is based on the U.S. DoD 5220.22-M. It's highly recommended if you have stored any important private data on your iPhone/iPad, such as bank records, passwords, etc.

Generally, we recommend user to use the Medium Level, which is enough to make sure of your personal information safety.
Step 5: In the pop-up window, you need to manually type delete in the required box to confirm your action, and then click Erase Now.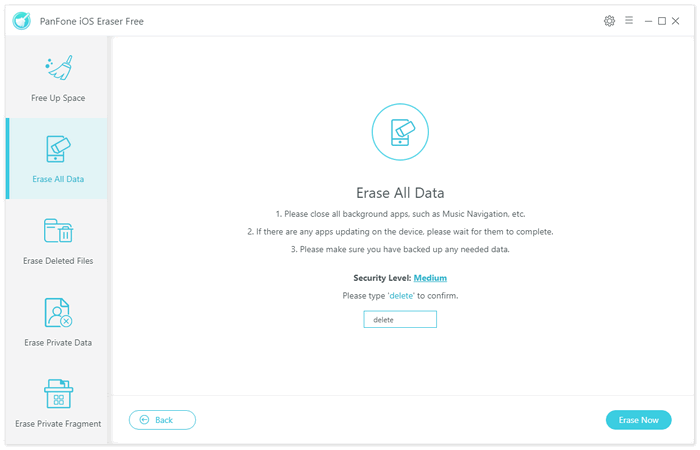 Step 6: The erase begins. And when it finishes, you will get the successful window.
All of your personal data and important documents are securely and permanently deleted from your iPhone.
Note: please note this action will PERMANENTLY erase all data and CANNOT be undone. Please make sure you've backed up the data in case of any data lost.
The normal ways used to erase data on iPhone (Data can be recoverable)
The common method we used is to clean all the iPhone data and format iPhone via iPhone Settings APP. Surly the data can be recoverable.
Steps to format your iPhone from iPhone Setting App:
Click Settings app from the Home screen of your iPhone.
Scroll down to tap on General.
Find the Reset tab, click on it.
Select Erase All Content and Settings.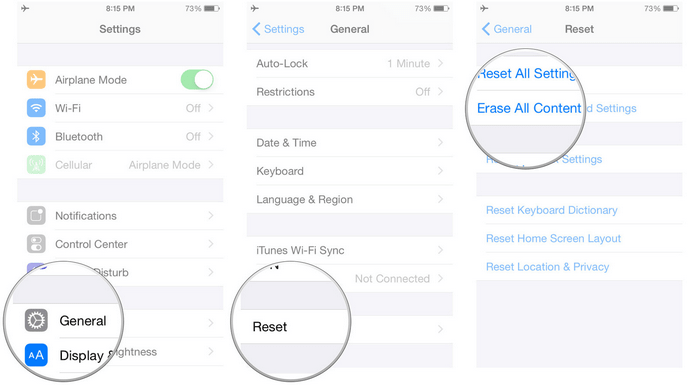 Tap on Erase iPhone.
Tap on Erase iPhone again to confirm.
Enter your Passcode.
Enter your Apple ID password to turn off Activate Lock and remove the device from Find my iPhone.
The process can take from a few minutes to several hours. Please be patient.
The above are two methods to format iPhone or delete everything on iPhone. Obviously, the method one is so safe and reliable to for wiping away the very important data and privacy on iPhone. Besides erase the complete data on iPhone, PanFone Data Eraser also supports clear caches or temp files to make our iPhone "clean". Just download it to have a try.