Everyday we may delete photo, message or other data from iPhone. Are these deleted files really removed from your phone? Actually, the deleted iPhone data are still stored on the device unless new data is written to the same piece of storage. It is possible for someone to restore your iPhone data with the help of certain data recovery software. How to make the deleted data unrecoverable on iPhone 11? The "Erase Deleted Files" function is provided by PanFone Data Eraser.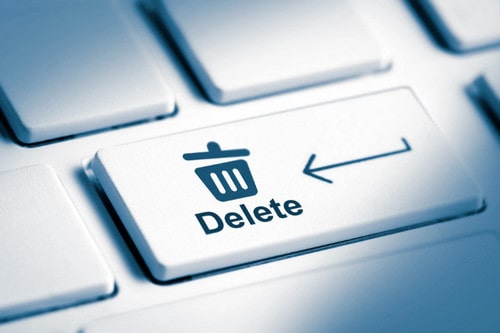 Have A Test Whether iPhone Data Has Permanently Erased
First, let's have a test to check if the file we have deleted still on your phone or not. We need a tool to do this test — it is PanFone Data Recovery.
Download PanFone Data Recovery and install it.
Choose a proper version and download it by clicking following button.


 

Download


Win Version

    

 

Download


Mac Version

Connect your iPhone to a PC or Mac. Launch PanFone Data Recovery and choose "Recover from iOS device".

Click "Scan". The software will start scanning all data on your iPhone.
After the scan is complete, you can check the results. If nothing is displayed, congratulations, your phone is safe and clean. But mostly, it will show a lot of files that we have thought to be deleted from iPhone. It is possible for someone to restore your iPhone data with the help of certain data recovery software.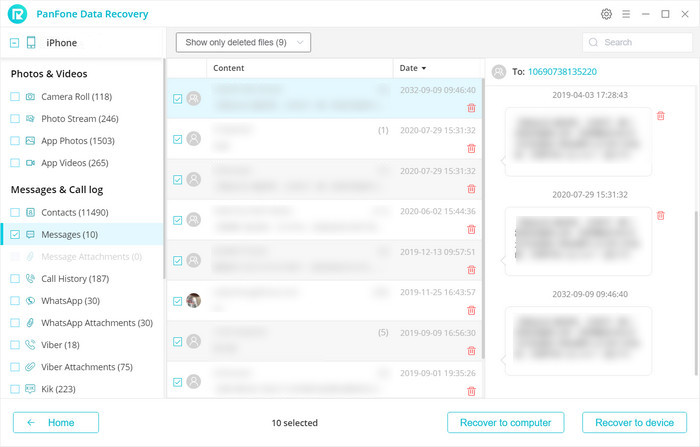 To avoid such a problem, we need a tool to do a completed "clean" of iPhone to remove all data, which can not be recovered any more, just like following.
How to Make Deleted Data Unrecoverable on iPhone 11
Step 1: Click the following button to download PanFone Data Eraser and install it on your PC.
 Download
Win Version
Step 2: Launch PanFone Data Eraser and connect your iPhone to your computer.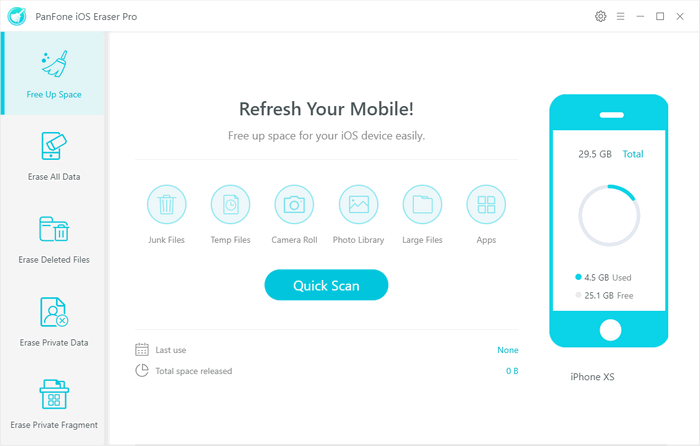 Step 3: Choose "Erase Deleted Files" and simply click on the button Erase.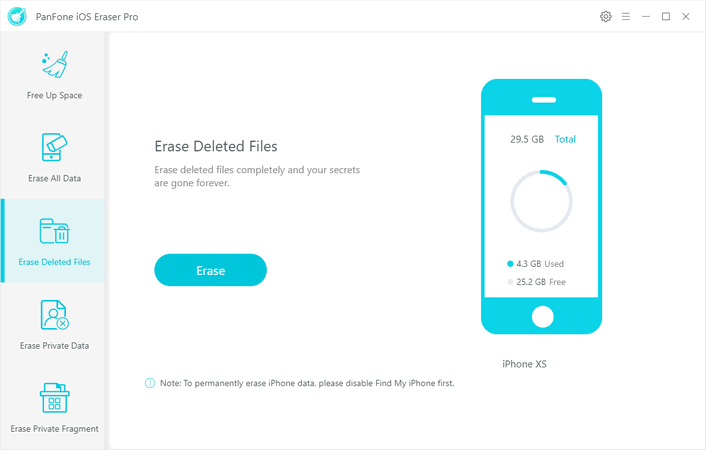 Programs stars the scan.
Step 4: When it lists all the deleted items, we can choose the one we want to remove from iPhone permanently. Check the item and click "Erase Now"
Low Level: Just remove data. Replace them with modified data and delete these data again. All data are destroyed and unrecoverable. This level of erasing is the fastest.
Medium Level: Remove the existing data and overwrite them with random data and then delete them again. Leave no trace of erasing after the deletion to make sure the deleted data 100% unrecoverable.
High Level: The longest and most secure data destruction option to write over the data three times, the security standard of which is based on the U.S. DoD 5220.22-M. It's highly recommended if you have stored any important private data on your iPhone/iPad, such as bank records, passwords, etc.

Generally, we recommend user to use the Medium Level, which is enough to make sure of your personal information safety.
Step 5: Confirm your deletion by inputting words "erase", and click "Erase Now" to start.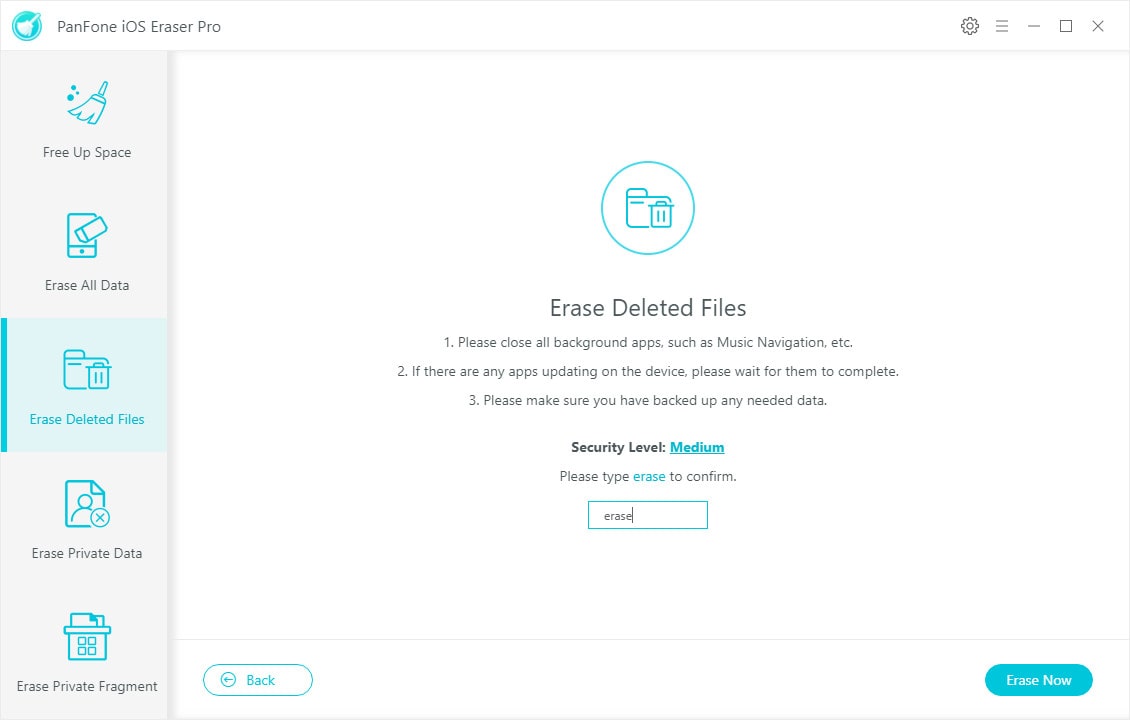 Step 6: The erase begins. And when it finishes, you will get the prompt showing that all the data has been erased.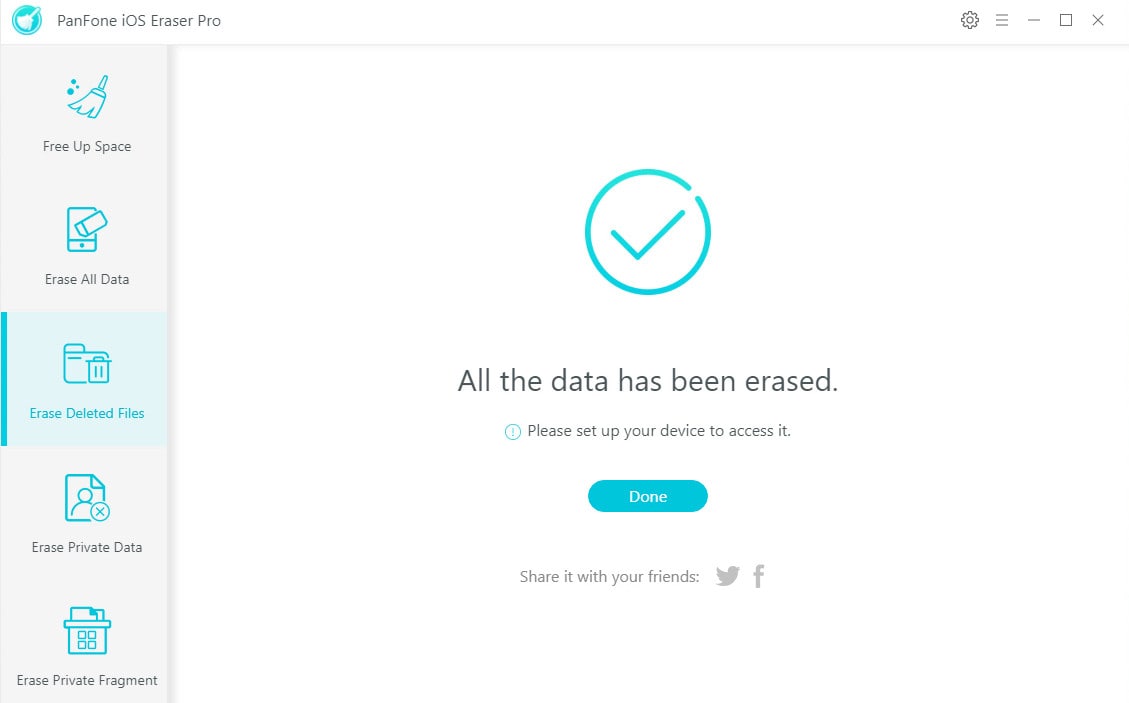 Until go through the above steps, you have really got the "deleted" file removed from your iPhone. If you care about your privacy, concern with your personal data, it is a best way for you to keep your phone security enough. PanFone iOS Data Eraser is a very powerful data deletion tool that worth trying.