http://www.syncios.com/android-to-iphone/transfer-messages-from-android-to-iphone.html
Q: I used to have an Android phone with a lot of important messages. These messages relate to my current data credentials. Recently I switched to a new iPhone, but I now need to migrate all the important SMS messages from my old phone to the new one, while I have trouble in how I can transfer the SMS from my Android phone to the new iPhone.
A: With AirDrop you can quickly, easily, and securely share files between iPhones, iPads, and Macs. While data and files transfer between totally different mobile operating systems can be cumbersome, just like Android and iOS. So connecting the two devices through a third-party program can completely solve this tough problem.
Why Not Mobile Data Transfer?
Synicos Mobile Data Transfer
— Simple yet effective solution for transferring mobile content
Transfer contents include contacts, messages, call logs, WhatsApp, music, photos, videos, apps, safari history, bookmark, Notes, ebooks and more.
Backup phone data and restore in lossless quality.
Recover iTunes/iCloud backup to iOS or Android devices.
Sync contents from iTunes Library to PC and devices.
Multiple OS supported: multiple phones run Android and iOS.
Read More >>
 Download
Win Version  Download
Mac Version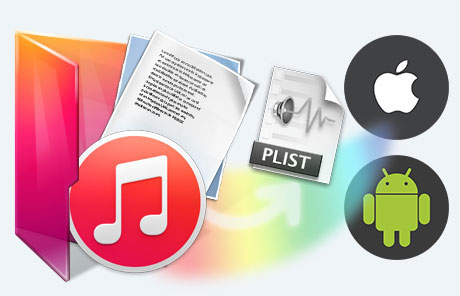 Method 1: Transfer Android Phone messages to iPhones/iPads
Step 1Download and install the program
Every time Syncios Data Transfer upgrade comes with changes to the data transfer experience both major and minor, and I'm going to run through how to quickly migrate SMS from your Android phone to your iPhone with you now.
 Download
Win Version  Download
Mac Version
Step 2Connect Android and iPhone to the program with USB cable
Upon running Syncios Data Transfer and under "Transfer" mode, when "Connected" with green front displayed, it means that Android ( here taking Samsung Galaxy s10 for example) and iPhone (iPad) has successfully connected to the program. Do make sure the arrow targeting to iOS devices. Two-way arrow allows to do the switch.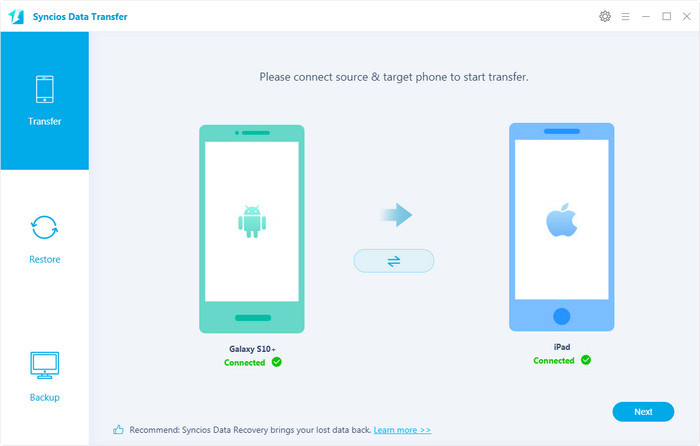 Tips: Connection to the program via USB collapses, please click Fix Android Device Detection Problem.
Step 3Launch the "Transfer"mode to choose the targeted item for transfer prepation
Items allowed to transfer between Android and iOS include camera roll, photo library, music ("Audio" in Syncios Data Transfer), video, contacts, messages chats and call history. Here we are supposed to kick on "Message Chats".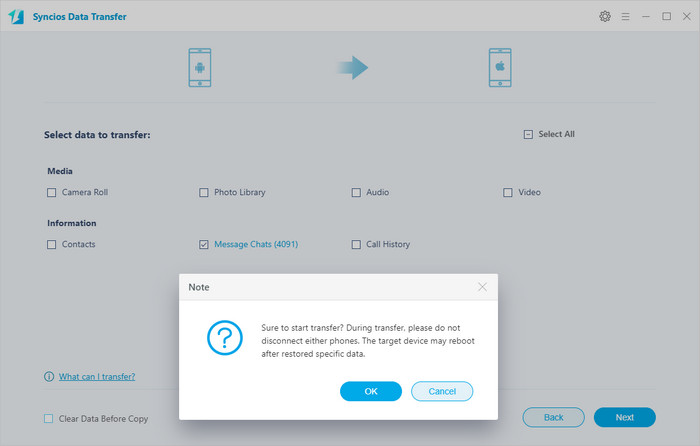 Step 4Tag "Next" to start the messages migration from Android.
Note: The items that can be transmitted vary depending on OS supported, please refer to the features.

Method 2: Free to transfer Android messages to iOS devices
It is no denial that Syncios Data Transfer is really blessed in data transfer and backup between mobile phones, and enjoys great population among iPhone fans. But I still want to recommend another program for you which has both Free and Ultimate version and actually you can backup and transfer messages for free. So here come to the method 2 to introduce Syncios Manager and the steps to transfer Android messages to iOS devices.
Part 1: Export and backup the Android messages to PC

Step 1Create a folder on your computer in advance to save the files you want to back up, then copy the path of the folder.
Step 2Download and install Syncios Manager.
 Download
Win Version
Step 3Enable your Android phone to be connected to the program. And you have to wait for Syncion poping up on your Android device as well connected. Upon successfully connecting, you would see the panel on the left listing the options for managing your Android. The options are Apps, Contacts, SMS, Media, and Photos.
Step 4Click on SMS when you will see the original messages detail on the phone clearly showing in the program.
Step 5Hit SMS Content>>>Backup >>> Browse>>>Backup one by one: tag on the box of SMS Content to a bulky choice of all the messages and then Backup the targeted files to PC. Following is a window poping up to set up a path for storing the file and you can easily paste the path in Step 1. And a final Backup again to start the process.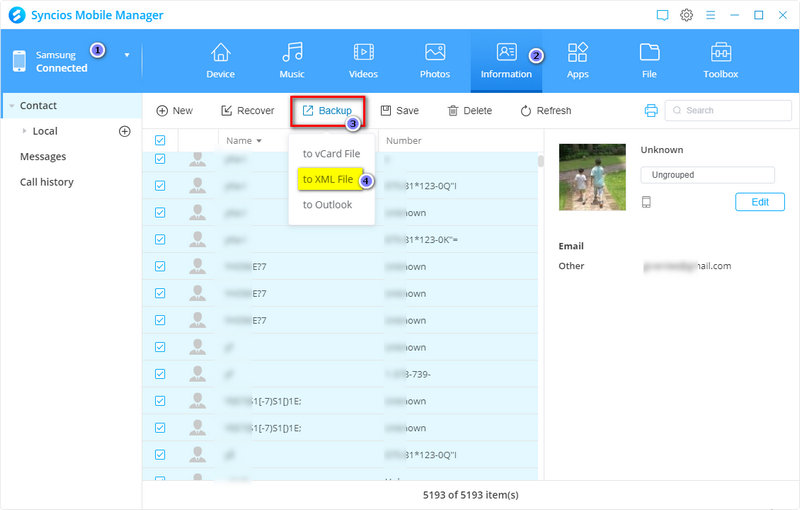 Part 2: Recover the messages from PC to iPhone

Step1Connect iPhone to Syncios Manager
Make sure backup steps in Part 1 is finished. And now is the steps to recover messages to the iPhone. When connected, the left panel will list Media, Photos, Ebook,Apps and Information. These options offered under the iPhone is someway different to Android mode.
Step2Click on Information>>>Messages>>>Recover>>>OK: when clicking the button of Recover, you will be directed to select the files you have stored in PC which is actually the messages from Android phone in Step 1.
Step3Lastly Refresh to check the new files on iPhone. And congratulatinons on your messages migration.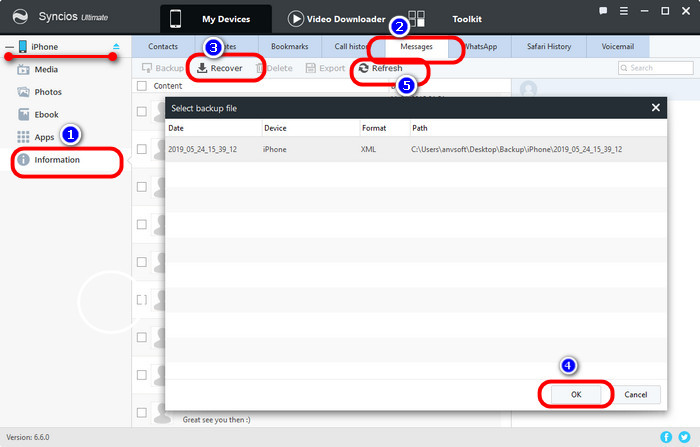 Frequently Asked Questions
What is the difference of Syncios Data Transfer and Syncios Manager?
Syncios Data transfer is professional in mobile phone data transfer, data restore and data backup, especially featuring in the data recovery from iTunes/iCloud backup to iOS or Android devices.
Syncios Manager is a perfect choice for mobile data management including a handy toolkit like Audio Converter, Video Converter, Ringtone Maker, etc. to be fully compatible with the latest iOS and Android devices.
The End: Have a free try, it is quite a trick to get it done. You can also export and import messages munually with Syncios Mobile Manager or one-click to backup and restore your messages with Syncios Data Transfer. Both are nice choice and bear with various functional toolkits for your experience.