https://www.syncios.com/android/how-to-transfer-music-from-iphone-to-samsung-s10.html
Good news comes from Samsung company that Samsung Galaxy S10 has unveiled and gained a great shot in 2019 while iPhone fans have been weary of the fixed phone table of iPhone despite of several updates, the iPhone's sales were not as good as expected.
And this had invisibly promoted Samsung, iPhone's rival, to stand forward in the smart phone market. Further, much more new mobile phone shfiter those shift their purchases from iPhone to Samsung, would unavoidably equipped themselves with the skills of how to transfer favorite music from iPhone to Samsung Galaxy S10. Here are some quick and fittest ways for these Samsung Galaxy S10 greener.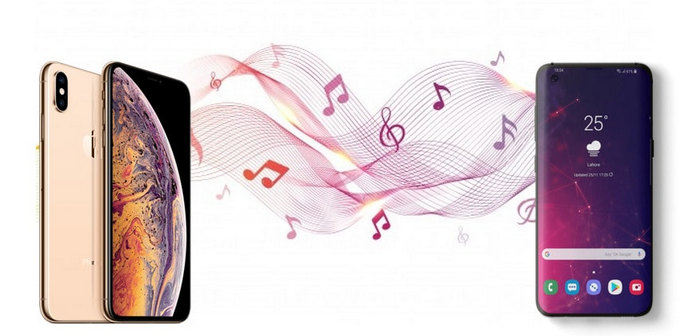 How to Transfer Music from iPhone to Samsung Galaxy S10
Method 1: 1-click Transfer Music phone to phone
To seamlessly complete the one button music transmission, an external PC program is needed and feasible for that overweighs any simply wireless transmission which might be interrupted accidently ending up with a fruitless effort. Syncios Manager is highly recommended in the file management and is brilliant also in music file migrating. 4 steps are offered to migrate your music in iPhone as well as iOS devices to Samsung Galaxy S10 perfectly!
And you can click here to learn what other types of data are supported to be transferred between iOS and Android devices.
Download
Win Version
Step 1: Download and Install Syncios Manager on your PC.
Buttons above are easily access to and download. Simply launch it and confirm iTunes has been installed on your PC although you do not have to run iTunes when using this iPhone transfer tool. Smooth working process related to iTunes service, you can click here to learn more.
Step 2: Connect iPhone and Samsung Galaxy Respectively to PC via Cable.
Run Syncios Manager and connect two devices to PC then sort lists of both phones are displayed on the left panel of the homepage as well as information bar on the upper reading " My Devices", " Video Downloader" , " Toolkit". Connected states of phones are required all the time thus to avoid cutting off the plugs.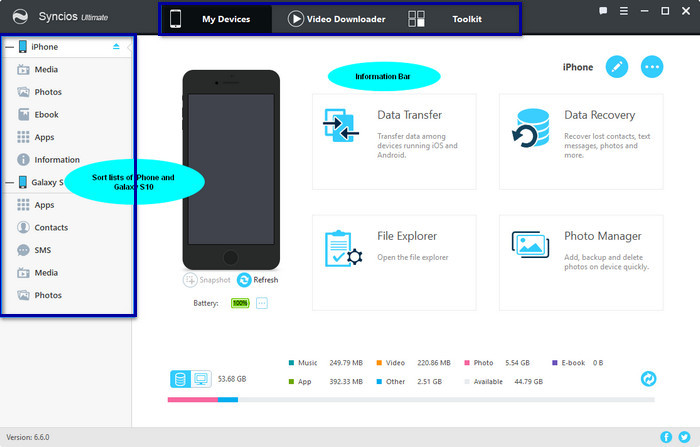 Step 3: 1-click Backup
Move and click on the" Toolkit" where "1-click Backup" and "1-Click Restore" are manifested. We need to firstly click on the former, "1-click Backup", which means to backup the music file in iPhone. A window will pop up to guide user to select the data needed to backup and you just choose the "Media" one and next to the "Start Backup". Files in iPhone will be swiftly backup in the Users folder.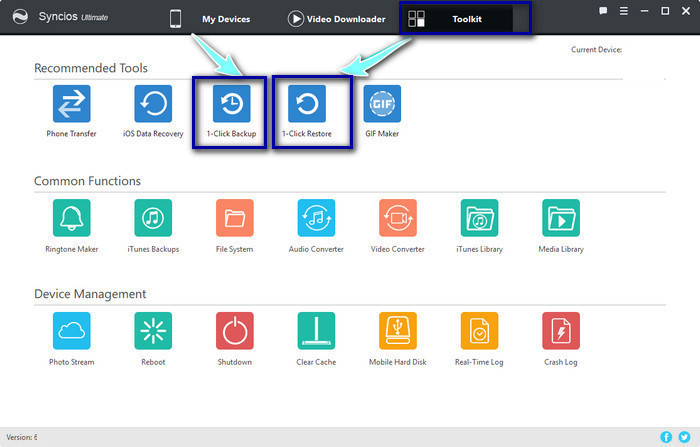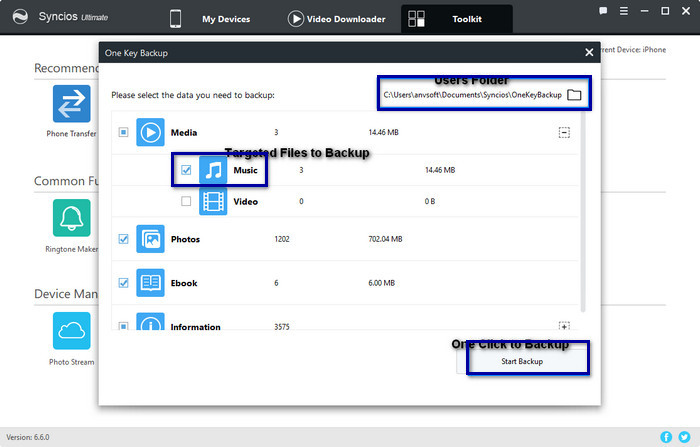 Step 4: 1-Click Restore
Here comes the point. After finishing the last step, we come back to the "Toolkit" and now click on "1-Click Restore". This step would be similar to step 3 while here is to recover or transfer the music having backed up in the users folder to your targeted phone, Samsung Galaxy S10. Choose the Users folder and next to one key recovery and the operation of media to recover would be done expeditiously.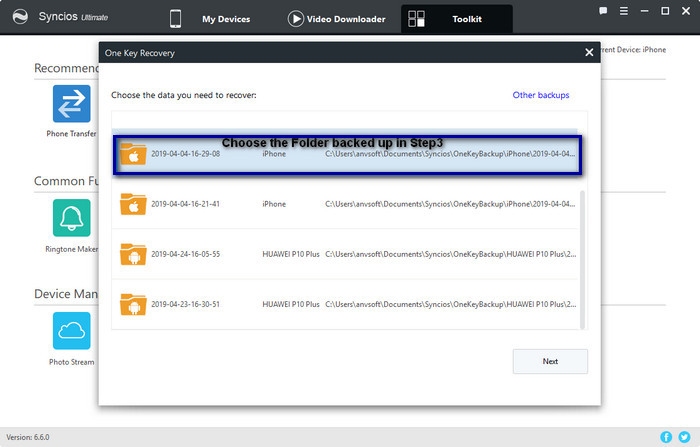 Method 2: Sync Music from iTunes Library to Samsung Galaxy S10
Step 1: Download and Install Syncios Data Transfer
Directly download by tagging the icons.
Download
Win Version Download
Mac Version
Tips: Often is program misdownloaded by some users so that please make sure you have correctly run the right program before you start the music transfer.
Step 2: Available Connection to Double Check
Launch Syncios Data Transfer and this time select Restore mode on the main interface. Connect your Samsung Galaxy S10 to the program via USB cable.
Step 3: Choose the file in iTunes Library
Similarly, by clicking into the iTunes Library which directs you to tag music files and then "OK" to get it done.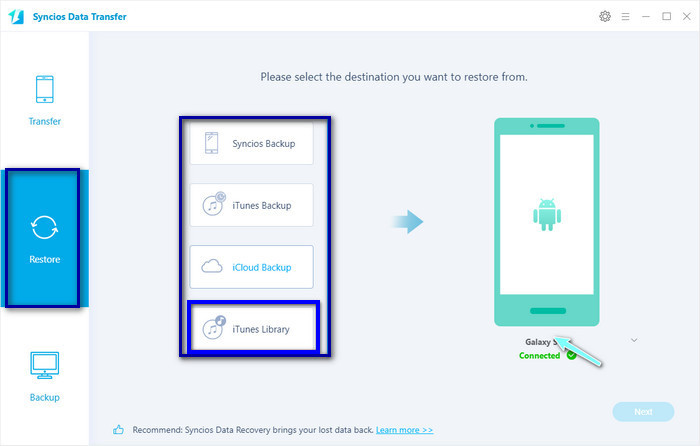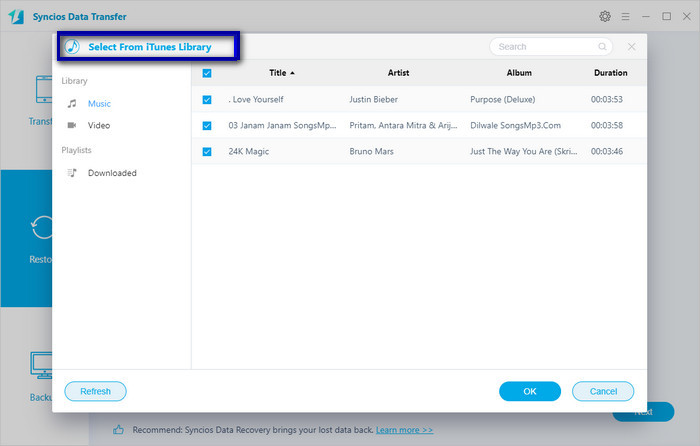 Step 4: Start to transfer
Back to the homepage, and follow to the "Next" ,the transferring process would be launched automatically,you would smoothly complete the music transfer in your Samsung Galaxy S10. When the transfer process is over, click "OK" to end it.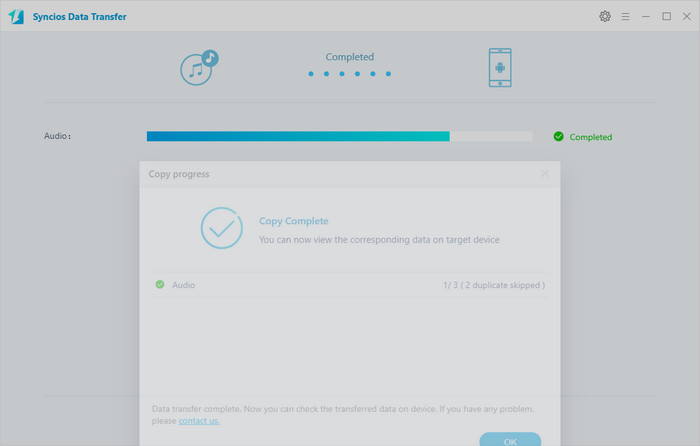 Pros and Cons
The two programs have pros and cons referred below and you can smarterly choose your preferable one to get your own music tracks transferred.
Pros of Syncios Manager: Multi-functions included
1. File management 2. Ringtone Maker 3. Audio/video Converter 4. Video Converter 5. …
Cons: Free and Ultimate Version with separate functions.

Pros of Syncios Data Transfer: Proficient in Data transfer
1. Syncios Backup 2. iTunes Backup 3. iCloud Backup 4. iTunes Library
Cons: Data transfer/restore/backup only.

Any questions or valuable opinions regarding music transferring, please feel free to leave a comment below or contact us. We are glad to hear from you.
1 Answers
Yes, the easy and safe way to Transfer Music from iPhone to Samsung Galaxy S10 is using Mobile Phone Transfer, if they are both in your hands. After linking iPhone and Samsung Galaxy S10 to computer via usb cables or wifi, Mobile Phone Transfer will scan out all data on them. After that, you can choose data like contact, text messages, books(pdf&epub),music, videos, photos to transfer directly.