No doubtless, Samsung is the most popular Android smartphone among people. The recent release of the Samsung S20/S20+/S20 Ultra grabbed the attention of many tech addicts. The S20 has an octa-core processor, 8GB RAM, 256 GB internal storage, and so on. It could be an excellent replacement for the iPhone. While iPhone and Samsung have different OS, can you transfer music from iPhone to Samsung S20? Sure. This article focus on how to transfer music from iPhone to Samsung using two of the best ways.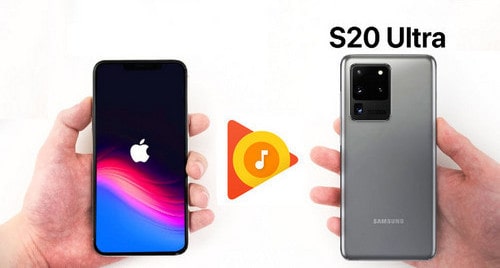 Way 1: Transfer music from iPhone to Samsung S20 mobile directly by using PanFone Data Transfer
PanFone Data Transfer is an all in one tool to transfer various media files, call logs, messages, contacts, and many more from one mobile device to another, such as iOS to Android transfer, iOS to iOS transfer, Android to Android.

 PanFone Mobile Data Transfer
PanFone Data Transfer is a one-click solution for you to sync data between iOS & Android, restore iTunes and iCloud data to device conveniently, as well as back up your phone data and restore later.
Transfer files between Android and iOS, including contacts, photos, music, SMS, and more.
Backup phone data and restore in lossless quality.
Recover iTunes/iCloud backup to iOS or Android devices.
Sync media files from iTunes Library to devices.
Download PanFone Data Transfer:
 Download
Win Version     Download
Mac Version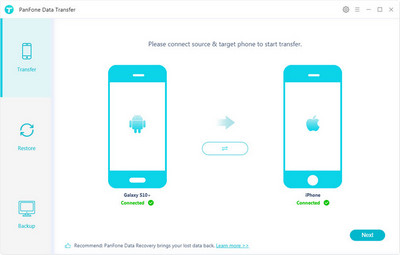 Just follow some simple steps to transfer music from iPhone to Samsung directly with PanFone Data Transfer.
Step 1: Download and install PanFone Data Transfer.
Before beginning the transfer process, you will first need to install the software on your computer. Please click the following button to download the proper version and install it on the computer.
Step 2: Install the software and connect the phones.
Now connect both the iPhone and Samsung Galaxy S20/S20+ to a computer via a USB cable. Open the software and choose "Transfer" mode. Select the iPhone as the source (left) and Samsung S20 as the destination (right) device. You can use the Flip button to switch the source and target device.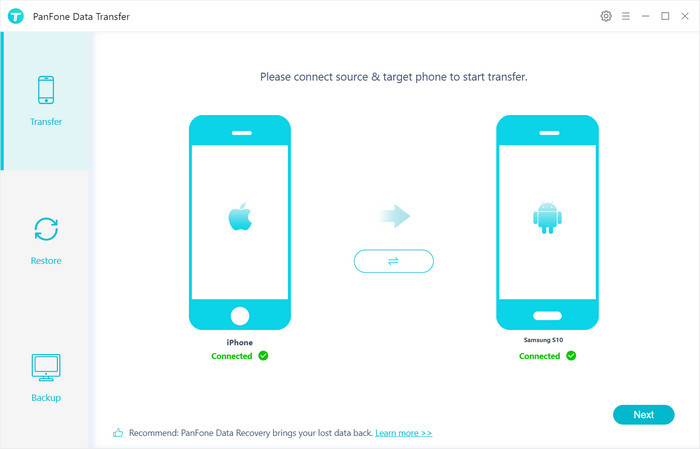 Step 3: Start Transferring Music from iPhone to Samsung Galaxy S20/S20+/S20 Ultra.
Click on the "Next" button, you will enter into the "Select data to transfer" window. Check any one of the given options. If you want to just move songs from iPhone to Samsung Galaxy S20/S20+/S20 Ultra, simply check the box next to Audio and uncheck other options. Then the program will load the selected data. After that, tap on the "Next" button.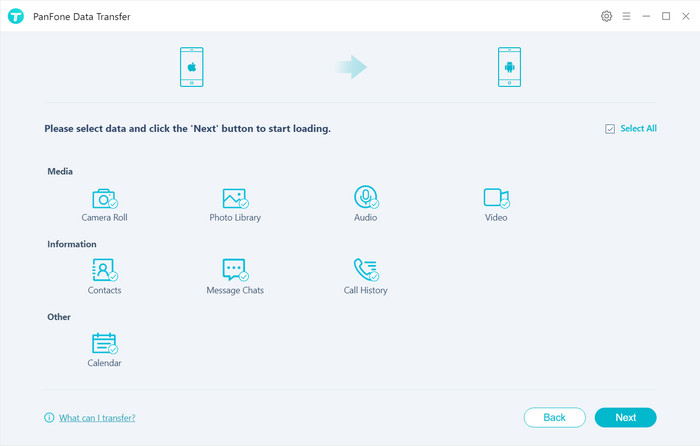 Now, you will get a prompt "During the transfer, please do not disconnect either phone" from the popup Tips window, click "OK". The iPhone music to Samsung Galaxy Note 10 transfer process will start. This might take a while, depending on how many tunes on your iPhone.
Once the process is complete, you can go to the Music app on Samsung Galaxy Note 10 and check your music library.

Way 2: Transfer music from iPhone to Samsung S20 with Samsung Smart Switch
Samsung Smart Switch is another quickest possible way to transfer music from iPhone to Samsung S20. It enables users to transfer data from their old phone to any Samsung phone effortlessly. It is available for desktop as well for mobile devices too. It is a multipurpose tool for every smartphone owner. Apart from music, it moves photos, videos, documents, and much more from one phone to another. Go through the following steps so you that you can know how to transfer music from iPhone to Samsung.
Step 1: Preparing to start data transfer
Make sure to charge both your old iPhone and the new Samsung S20 for a successful transfer of music from iPhone to Samsung. Keep aside an iOS lightning cable and an OTG cable with you.
Step 2: Download and install Smart Switch.
Smart Switch application will be available on the Google Play Store in your Samsung S20. After the installation, run the app and choose the USB cable transfer mode from the home interface.
Step 3: Connecting the phones.
Connect the iPhone with Samsung S20 using lightning cable and OTG. Tap "trust this computer" and simply click on the next option.
Step 4: Selecting files.
Now, select the music tracks you want to transfer to the Samsung S20.
Step 5: Start transfer.
Once the files are ready to transfer from iPhone to Samsung S20, click on the "transfer" option. Now, wait for a couple of minutes. Your device will notify you once the transfer is complete, then you can go ahead and disconnect the devices.
Conclusion:
Comparing the above two ways of transferring iPhone music to Samsung Galaxy S20/S20+, PanFone Data Transfer supports almost all data types ranging from calls, messages, media files, and so on and Smart Switch only allows the transfer of some critical data files such as documents, videos, music, etc. And the PanFone Data Transfer is easier in the operation. But if someone doesn't have access to a computer, then the Samsung Smart Switch would be a viable option. You can follow the method that suits you the most.
Related Articles: