https://www.syncios.com/iphone/how-to-delete-apps-on-iPhone.html
How to Delete Apps on iPhone
Different from the Android phone that can presents the installation package of application, so that the user can clearly understand how data occupies the space of the mobile phone. Although the Apple mobile phone is convenient for users to download the app directly on the App store, the user does not know where the application installation package puts and how they occupied the limited iPhone space. And when they want to totally delete the apps to free up the space, they actually have no idea whether the phone has erase the data or not. Here's how to correctly remove the iPhone apps and permanently delete.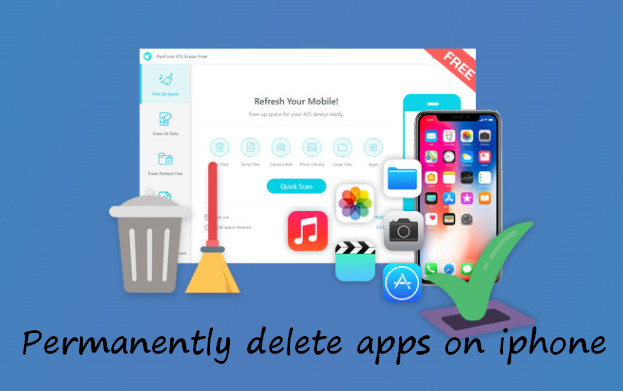 Method 1: One-key gentle press to delete
The quickest way to delete an app is to do it directly from the home screen with one-click deletion.
Step: press and hold the app on your phone's desktop when the app icons will get an (x) icon in the upper left and you can directly tap the (x) to delete it directly.
If you want to download the same app next time, go directly to the APP store and download again, but the premise is in the case of the same Apple ID, your download history will be recorded or fingerprint authentication is no need.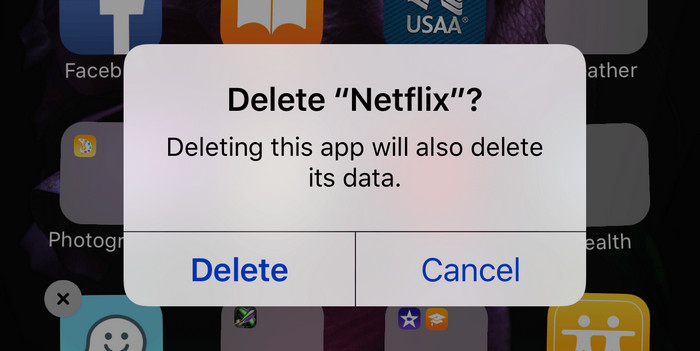 At the same time, you are not supposed to tap too hard for it would pop up a menu allowing you to choose to enter one of the functions of the app instead of apps arrangement mode.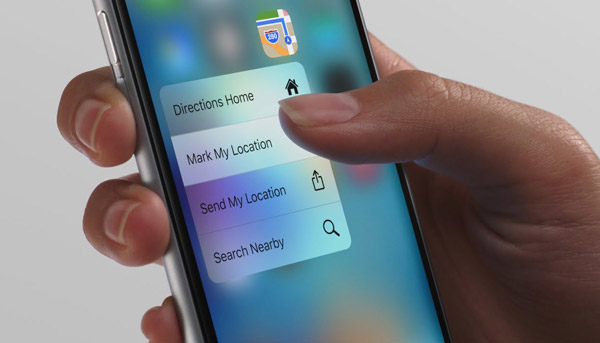 Method 2: Setting App helps to delete
Open the Settings app and follow these steps: Settings >>> General >>>Storage >>> Select the app you want to delete >>> Offload/Delete App.
You'll see all the apps listed on your phone, along with the amount of storage space they're using. Above is a diagram of all the storage on your phone. Further, when you click into a specific one, App size and Documents & Data will be indicated and below is the two options for "Offload App" and "Delete App"
Offload App will preserve the document and data, which means that it will be the same as before the reinstallation.
Delete App is completely possible to delete data related to the app.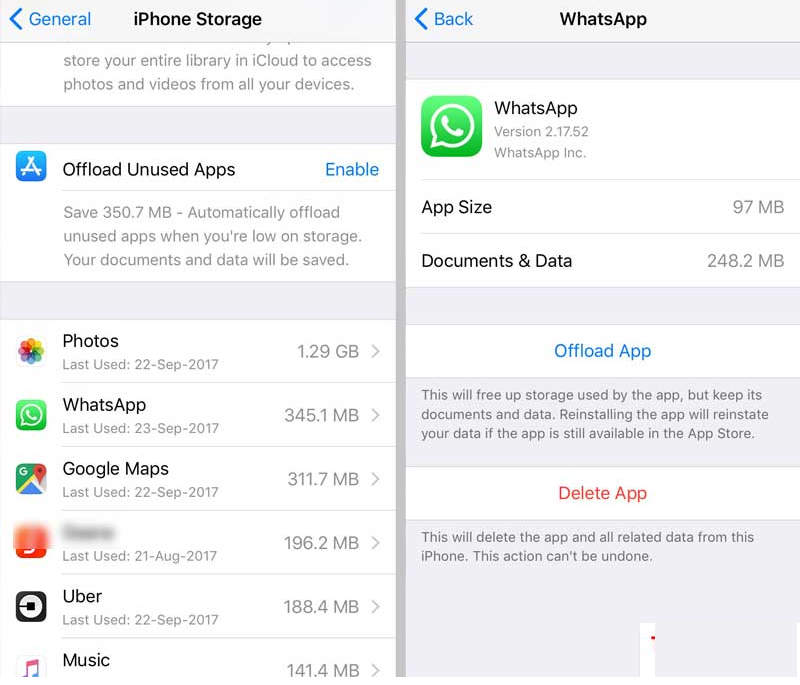 Note:These two ways did on your iPhone allow you to choose to delete selected apps individually.
If you want to do a lot of data sorting and deletion on your mobile phone, you can use a third-party program to delete the file data and apps of your mobile phone.
Syncios manager outshines multi-functional management for iPhones as a computer program allowing to directly delete the software that is not needed on iphone. It can also be backed up to a computer.In addition to the managementof mobile applications, syncios can also display its internal file processing capabilities, music files, album backup and restore which are the perfect solution for mobile phones.
PanFone is currently only available for iOS and can completely erase your phone's information and software. The recommendation is mainly because it can also help you clear the system garbage that you can't find on your mobile phone, and further help you release the memory of your mobile phone. Specifically, you can see how fast it can facilitate your iPhone and how to work with PanFone perfectly!
Method 3: Syncios Manager manages to delete
Step 1. Download and install Syncios iOS Manager on your computer and connect your iPhone to pc via USB cable.
 Download
Win Version    Download
Mac Version
Step 2. Under iPhone, click Apps.
Step 3. Select App(s) you intend to delete.
Step 4. Click Uninstall.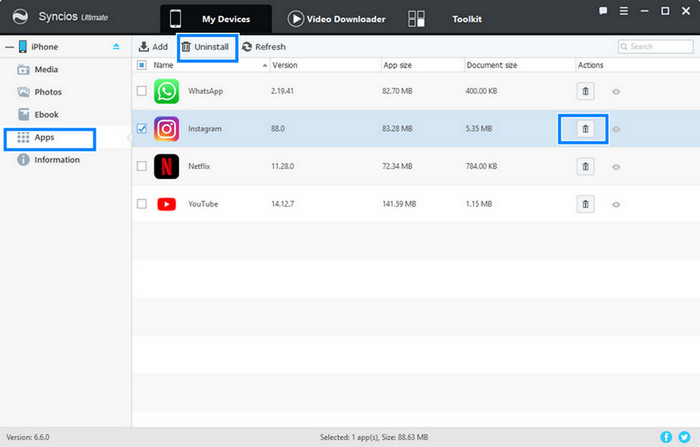 Method 4: PanFone, free iOS Eraser
Step 1. Download and install PanFone iOS Eraser Free on your computer and connect your iPhone to pc via USB cable.
Step 2. Connect iPhone to Computer
To start with, good connection of iPhone and program is always required then your devices will show in the window as follow.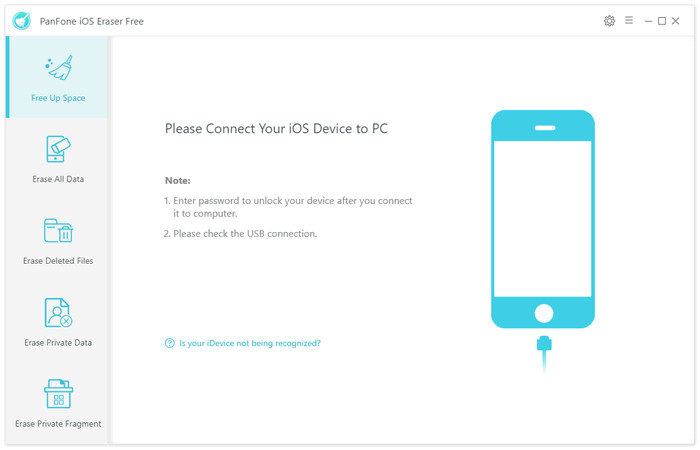 Step 3. Scan iOS Device
You can simply click on Quick Scan to do a full scan of your device, or you can click on each option including Junk files, Temp Files, Camera Roll, Photo Library, Large Files and Apps to scan.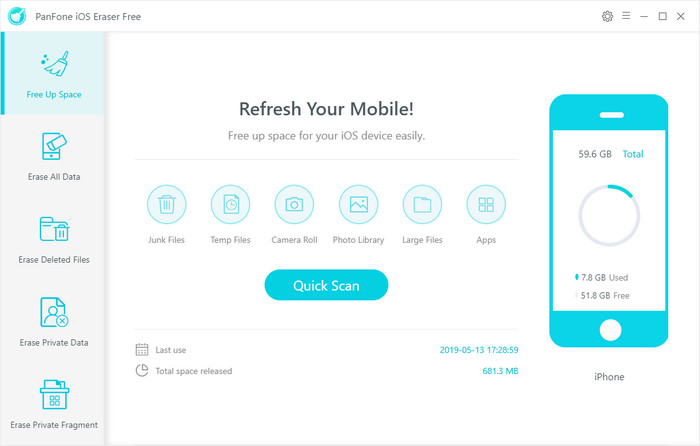 Step 4. Start to Clear the Data
After a while, PanFone will finish scanning your device and list scanning result on the panel. You can choose to clean your desired data to free up space on your device. Of course, you can go Back or do a Rescan.