If you are an Android user who has switched to the latest Samsung mobile phone, you may want to know how to transfer photos from the old Android to Samsung Galaxy Note 10. This article will give you satisfactory answers.
What would you do after buying Galaxy Note 10? You certainly want important data to be with you. If you pay close attention to Samsung, you may have heard about Samsung Smart Switch, Samsung's official transfer application. However, many complaints have been reported, such as "unable to support mobile phones running on Android OS less than 4.0", "incompatible with some mobile phones", "can only transfer certain file types" and so on. To this end, I'll introduce you a new way to ensure that you transfer 100% of all files from Android to Samsung Galaxy Note 10. Please read the following description carefully.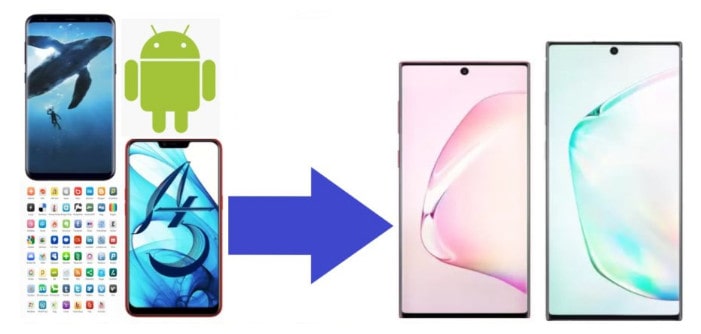 Transfer photo from Android to Samsung Galaxy Note 10 or 10 Plus in One Click
Using some third-party data transfer tools is recommended strongly because it is the same friendly to non-SamSung phones. PanFone Mobile Phone Transfer is just the one to easily help us to sync all photos from one phone to another, just like transferring photos from an Android phone to Samsung Galaxy note 10.
PanFone Mobile Transfer is a simple, effective and reliable data transfer software. You can use it to transfer contacts, text messages, calendars, music, videos, photos, Apps, app data, etc. from phone to phone. Furthermore, it also supports to backup and restore phone data from computer. The compatible mobile devices include Samsung, Google Pixel 4/4 XL,iPhone, iPad, HTC, OPPO, LG, Sony, Google, HUAWEI, Motorola, ZTE and so on.
 Download
Win Version     Download
Mac Version
Step 1Download and install PanFone Mobile Data Transfer.
Please click the above button to download and install the proper version.
Step 2Launch PanFone Data Transfer and connect phones to computer.
Please connect both your old phone and Samsung Galaxy Note 10 with your computer via USB cables. In the main interface, select Transfer mode. In case any prompt appears on your phones, you'd better keep your phone unlocked.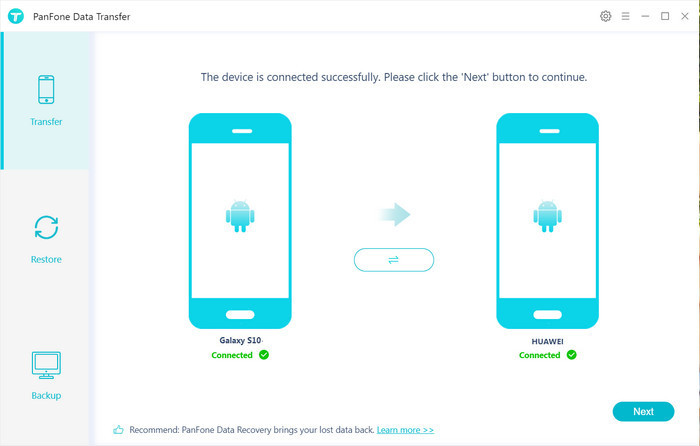 In the connecting pane, this transfer tool will detect your two phones automatically. You will then see them displayed on the starting window with your current phone in the left side (source) and Samsung Galaxy Note 10 in the right side (target) position. You can click the "Flip" button in the middle to change the position of two connected phones. Click "Next".
Step 3Transferred photo from old phone to Samsung Galaxy Note 10
In this panel, all contents can be transferred are listed. Mark "Photo Library" and "Camera Roll" and then click the "Next" button to start the transfer process. Please do not disconnect either phone in the transferring.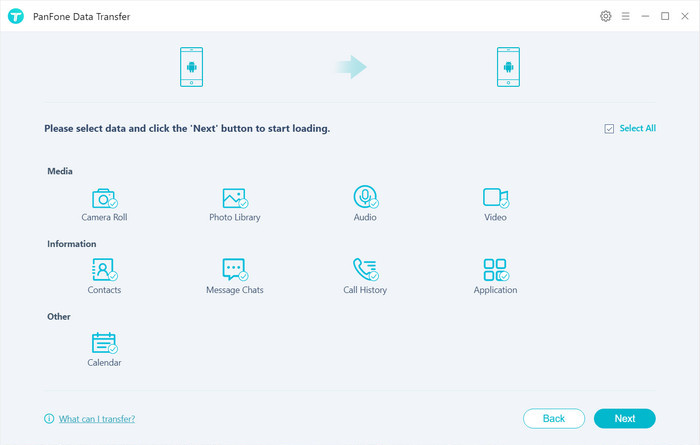 After a while, all photos would be copied from an old Android phone to Samsung Galaxy Note 10 successfully.
Transfer Photos from Android to Android with Google Backup
No one likes to spend a lot of time on the stuff such as transfer data from Android to Android every time you change the phone. If you want to transfer quickly and painlessly then here's the best way which explains how to transfer data from Android to Android using Google Backup method. Google still has many ways to get all your stuff off your old device and add to your new device using Google Backup.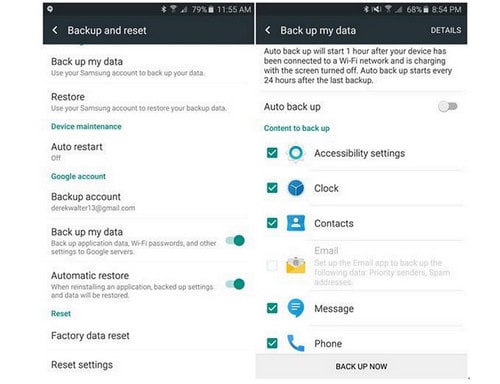 Before taking up backup, the first thing you need to do is to sign-in the Android phone with your Google account. In the setting menu, you need to search for Backup and reset mode. Make sure you have backed up data and automatic restored as both are flipped on your google account. Your Google server will remember your password, so you do not need to re-enter the password every time you sign in. Google syncs really very well with Android devices.
Transfer Photos from Android to Android with Bluetooth
Users feel good while setting up a new Android device. But we also know that your data is sensitive so there would be one thing that would bother you is how to transfer data from Android to Android using Bluetooth. Don't worry here's an easy way which would help you out to transfer all the photos safely by simply using Bluetooth. You have to connect both the devices and enable the Bluetooth.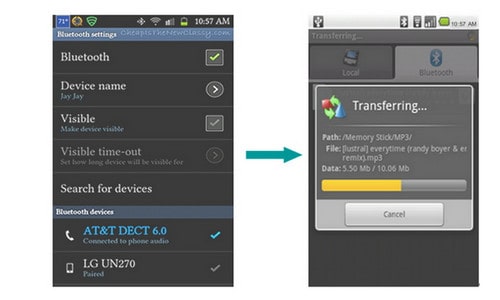 This one is the best way to transfer the data such as photos, videos, songs and other files. you have to discover the device and connect them through wireless Bluetooth exchange data method. Allow your destination device to detect its presence and attempt to establish the connection between them. 
Note: This method is not stable and the Bluetooth can't transfer text messages, contacts, call history or Apps.
Conclusion: This guide tells so many ways to transfer photos from an Android phone to SamSung Galaxy Note 10 or 10 plus. All in one, the simplest and one-click solution is to use PanFone Mobile Data Transfer, which is safe and stable for transferring photos so you will never worry about the loss of photos.
Features of PanFone Mobile Data Transfer
PanFone Mobile Data Transfer — 1-Click to Sync One Phone to Another, Easy, Safe and Fast.
Transfer files between Android and iOS, including contacts, photos, music, SMS, and more.
Backup phone data and restore in lossless quality.
Recover iTunes/iCloud backup to iOS or Android devices.
Sync media files from iTunes Library to devices.
Compatible with Android 9.0 and the latest iOS.
 Download
Win Version     Download
Mac Version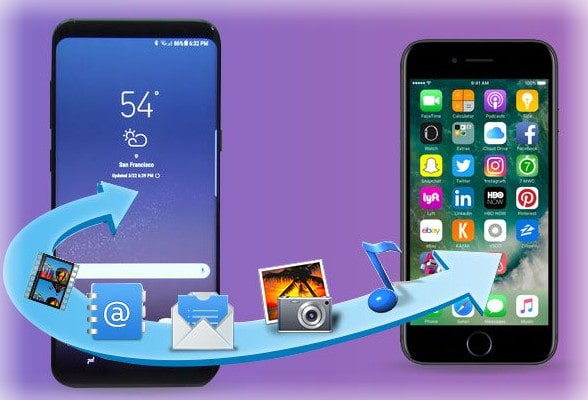 Related Articles: